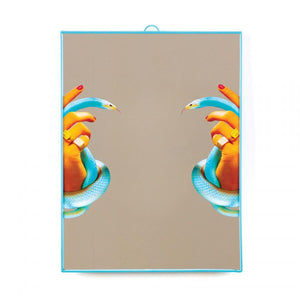 Produced by Seletti
Plastic and Glass
Hinged back for tabletop display, looped top for flat wall display
30 x 40 cm | 11.8 x 15.75 in

Printing on glass varies; each mirror is slightly unique. 
Contemporary artist Maurizio Cattelan and photographer Pierpaolo Ferrari are the duo behind Toiletpaper, known for its cheeky hyperreal imagery, breaking down the prevailing codes and photographic motifs of fashion.

Toiletpaper's assemblages are of course inspired by "found images" taken from the Internet and magazines: breaking down prevailing codes of fashion, advertising and cinema is the duo's leitmotiv. On top of this comes an eclectic mix of forms: from consumer items and food to animals of all kinds, perhaps alluding to the artistic work of Maurizio Cattelan.