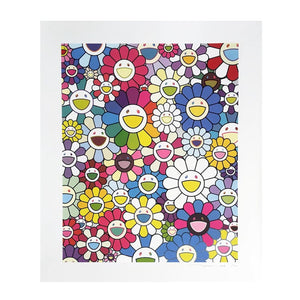 Produced by Kaikai Kiki Co., Ltd. All Rights Reserved., 2018

Archival Pigment Print on Canson Velin cotton rag paper 
Image size: 34.2 × 42.5 cm | 13.5 x 16.7 in
Paper size: 38 × 46.8 cm | 15 x 18.4 in 
Edition of 100 + 25AP
Signed and numbered in graphite by the artist.

Limit of one per person/household. Additional shipping charges may be invoiced after purchase dependent on location. 
Takashi Murakami, who has a PhD in nihonga painting, combines the most cutting-edge techniques with the precision and virtuosity of traditional Japanese art. Inspired by manga and kawaii culture, his irresistible world is peopled by monstrous and charming characters alike, facetiously portrayed as descendants of past myths. His theory of the superflat aesthetic, which he introduced in 2001 with the trilogy exhibition he curated (the third part was titled "Little Boy," a reference to the code name for the atomic bomb dropped on Hiroshima in 1945), attempts to blur the boundaries between popular art and high art; the superflat movement has explored the evolution of Japan's understanding of its post-Hiroshima condition and the interrelationships between vanguard art, manga and anime, and their forerunner, ukiyo-e woodblock prints. The absence of perspective, the two-dimensionality of ancient Japanese art, filters into every medium.

Since his first monographic exhibition outside Japan in 1995 at Perrotin, Murakami has achieved recognition as one of the most prominent contemporary artists of his time, and his work has been featured in numerous solo exhibitions at museums and art institutions throughout the world.