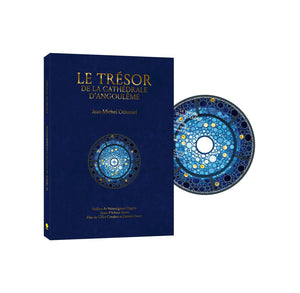 Published by A.p.r.e.s., 2019
Hardcover book with DVD, 144 pages
15 x 21 cm | 6 x 8.25 in
Text in English and French
Preface by Monseigneur Dagens, text by d'Adrien Goetz

ISBN: 9791091490337

Last copies in stock are in good but not pristine condition.

From the publisher:

The Trésor of the Angoulême Cathedral, begun in 2008 and completed in 2016, is a monumental creation by French artist Jean-Michel Othoniel, who redesigned spaces housing more than 200 objects and liturgical sculptures, largely dating back to the nineteenth century. The Trésor, a magnificent showcase for these cult objects that spans three rooms and 200 square meters. The film by Gilles Coudert and Damien Faure, which explores the voyage of the Trésor's creation through interviews with Jean-Michel Othoniel as well as visits to the workshops of numerous artisans who collaborated on the project and who shed light on the lengthy process involved in producing this major work of art.