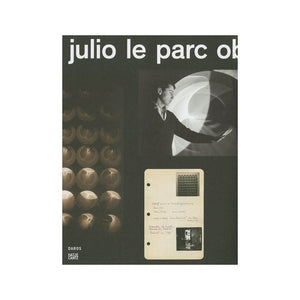 Edited by Hans-Michael Herzog, Katrin Steffen. Text by Alexander Alberro, Bettina Kaufmann, Julio Le Parc, Käthe Walser. Interview by Hans-Michael Herzog.
Published by Hatje Cantz, 2014
254 pages, softcover
8.5 x 11 in
ISBN : 9783775736916
Le Parc is a major figure of historical importance within kinetic and contemporary art. In Paris in 1960, he cofounded the influential collective Groupe de Recherche d'Art Visuel (GRAV). Le Parc's early paintings were influenced by the constructivist movement known as Arte Concreto Invención. Since 1959, Le Parc has continued on his own independent path, applying rigorous organizing principles to his paintings, whether exploring the use of fourteen scales of colors or white, gray, and black in endless varying yet precise combinations. He has long been concerned with how art might consider the participation of the public, and his research into perceptual instability as a pioneer of kinetic and op art led to important works involving light and movement. Le Parc is particularly interested in opening up new relationships between the art object and the viewer, whereby the visitor is no longer a passive, dependent observer, but an active participant within a dynamic experience.

Julio Le Parc was awarded the International Grand Prize for Painting at the 33rd Venice Biennale in 1966. A defender of human rights, he fought against dictatorship in Latin America through numerous collective antifascist projects.