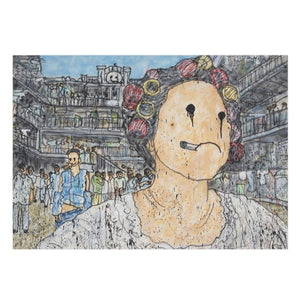 Offset print
53.3 x 74.9 cm | 21 x 29.5 in
Edition of 300
Signed and numbered by the artist

© 2020 MADSAKI / Kaikai Kiki Co., Ltd. All Rights Reserved.

Limit one per customer. 
Perrotin stocks #52 and lower in the edition. 

This print ships tubed. Perrotin reserves the right to consolidate multiple print orders to maximize efficiency and cost. Please check-out completely and carefully; any orders with fraud alerts will be cancelled without exception. 


About the artist:
A graduate of New York City's Parsons School of Design (BFA, 1996), MADSAKI was born in Osaka, Japan, and raised in New Jersey, USA – experiences between two cultures that formed his aesthetics and personality. While much of MADSAKI's work centers on his interest in art history and critiquing mass culture with references to slang, movies and manga characters, the artist has recently been exploring more personal, intimate topics. To express this visually, MADSAKI developed a signature style using spray paint as a fine art medium, stemming from the fact that he has never participated in illegal graffiti on the streets. The artist is particularly known for his Wannabe series, which at first glance humorously targets old masters, yet their deeper meaning is a reoccurring theme that can be found throughout MADSAKI's artistic practice - an attempt to use laughter and humor as both distraction and therapy for his internal turmoil.