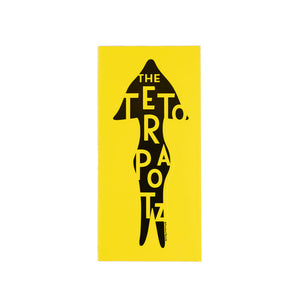 Produced by Potziland Records
Vinyl, die-cut sticker 
12 x 6 cm | 4.8 x 2.2 in
Limited edition of 1000
About the band:
THE TETORAPOTZ is a five-man band that was born of an art exhibition. They are active primarily in the context of art museums, art projects, and art-related events. All aspects of musical, visual, stage, and record production are handled by the band members themselves, all of whom are also active independently in the visual arts.
Guitar & Vocals: Paramodel Yasuhiko Hayashi 
Bass & Vocals: Rintaro Hiramine (Mrs.Yuki)  
Guitar & Vocals: Tomomi Okubo (Mrs.Yuki)
Drums: Izumi Kato
Conch Shell Horn & Synthesizer: Takao Minami