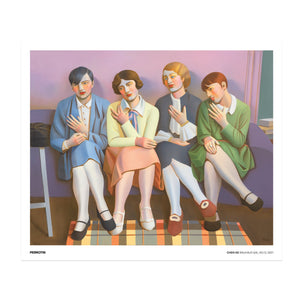 Produced by Perrotin, 2021
Offset poster on uncoated paper
60 x 50 cm | 23.6 x 19.6
Standard version: Open edition
Signed version: Limited edition of 100, signed and numbered by the artist. Perrotin New York stocks #45 and lower. 

The Bauhaus Gal portraits are based on the zeitgeist-charged archive photos of the Bauhaus. Chen Ke prefers the classical conventions when delineating the faces of these pioneering young women of modern times. Immersed in their own world and in deep thought, they are completely oblivious of the gazes from the outside. While transforming into painting, these archive images undergo "physical implants" so that the painter can relive certain moments in life and recollect involuntary memories such as smell, light and touch, thereby reviving those black and white figures in these historical records.
Her awareness of medium from years of painting practice (seeing in abstraction) helps her to establish a link between the ancient spirit and contemporary sentiments. In the portraits, one sees the physical sensation of the early renaissance fresco painting transposed, imbricated on the close-ups of avant-garde films.