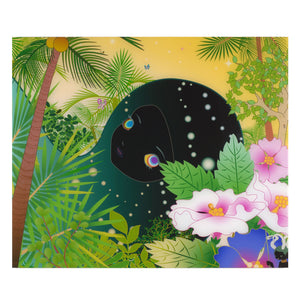 Produced by Kaikai Kiki Co. Ltd.
Offset lithograph
74 x 61.5 cm | 29.15 x 24.2 in
Edition of 300
Signed and numbered by the artist 

This print ships tubed. Limit of 2 per customer. 


Courtesy of Kaikai Kiki:
Chiho Aoshima made her debut with a series of chromogenic prints that took advantage of her mastery of Adobe Illustrator but has since gone on to produce digital animations, sculptures, and hand-painted works. With imagery dealing mainly with Japanese yokai and graveyard spirits, she uses dialog with the extra-dimensional to explore the personal landscape of her own subconscious. Perhaps in an attempt to gather material for such works, she has lived next door to a cemetery for the past ten years.
Whether it's cruel, catastrophic scenes of human dismemberment or nature expressing its rage in the form of natural disasters, her images are conceived in a violent array of colors and at times seem the product of a brutal mind, but are in fact her primitive response to the terrors of our world.