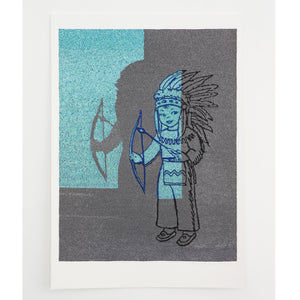 Produced by Perrotin, 2013
Digital print on Fine art 100% cotton paper
50 x 70 cm | 19.6 x 27.5 in
Edition of 300 signed and numbered by the artist

Perrotin will donate proceeds from this edition purchased now until Jan. 15th, 2022  to the Audre Lorde Project, a non-profit organization supporting Lesbian, Gay, Bisexual, Two Spirit, Trans and Gender Non Conforming People of Color center for community organizing, focusing on the New York City area. 


Farhad Moshiri's mixed-media practice spans painting, assemblage, and sculpture. Inspired by pop art and conceptualism, he has developed a profoundly hybrid aesthetics at the crossroads of the Middle East and the West. While he usually draws his motifs from American consumer culture (comics, advertising, pop music), he reinterprets them through equally clichéd traditional Persian craftsmanship. His embrace of delicate ornamental techniques, ranging from hand embroidery to calligraphy, offers an ironic and powerful contrast to his otherwise lowbrow visual references. His signature use of sparkly materials (beads, glitter, diamonds) further creates a palpable tension between the primarily figurative quality of his works and their inclination toward pure embellishment. Beneath its humorous and light appearance, Moshiri's oeuvre takes on a slightly subversive dimension by touching upon his native country's current transformation.