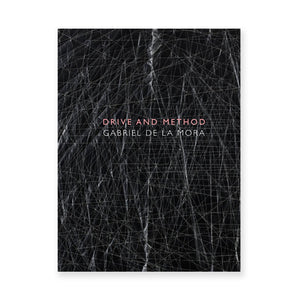 Published by Turner, 2011
Clothbound hardcover with dust jacket, 242 pages
26.5 x 21. 5 cm | 10.5 x 8.75 in
Text in English 

ISBN: 9788475069654

Featuring text by Robert C. Morgan, Miguel Gonzalez-Virgen, Willy Kautz, Maria Minera, Gilbert Vicario, and an interview with Gabriel de la Mora. 

From the publisher:

Interpreting the artistic work of Gabriel de la Mora is like looking for the trace of a crime with the suspicion that it never took place. In his works, precision and execution seem both conceptual and formal maneuvers.
If everything seems to be in its place, "What is the disturbing and wonderful thing about your work?" What is it that leads us to an experience of the sinister? His work is related to the dark side of the psyche, its inner side, apart from the cynical and ironic propositions so common to contemporary art.
This book covers the work of Gabriel de la Mora, his work explores personal and cultural identity through different lines of research that trace the common thread of his work: originality, the paranormal, identity, memory, portraiture and the body, which are part of the game between dichotomies (figuration-abstraction, baroque-minimalist, innocence-cruelty, traditional-experimental) represented in his works. In them, the line and the point become fundamental elements that generate a dialogue between drawing and sculpture, between the two-dimensional and the three-dimensional.