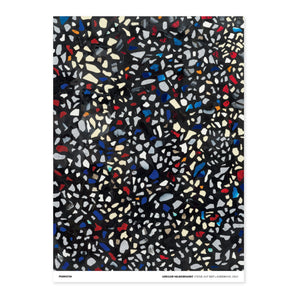 Produced by Perrotin, 2022
Offset print 240 gsm paper
70 x 50 cm | 27.5 x 19.6 in 
Limited edition of 100, Signed and numbered by the artist 
Standard version of this poster is available here. 

Produced on the occasion of the exhibition Was Geht Uns Die Sonne An (What Does The Sun Matter to Us). On view at Perrotin New York from June 23rd - July 29th, 2022. 
About the artist:

Gregor Hildebrandt's signature media are cassette tape and vinyl, which he collages and assembles into apparently minimalist yet latently romantic paintings, sculptures, and installations. Resting in silence behind the glossy surface of his analog aesthetics, which verges on black and white monochrome, music and cinema haunt his practice. Whether pictorial or sculptural, all of his works contain prerecorded materials, which he references in the titles. These pop-cultural sources, usually a single song, are meant to trigger both collective and personal memories. Like analog storage media, his distinctive rip-off technique is a metaphor for the mnestic process itself: it consists in rubbing magnetic coating against double-sided adhesive tape stuck on canvas to trace intricate and elusive powdery patterns. Further relating to architectural Gesamtkunstwerk, Hildebrandt's monumental sonic barriers made of stacked, bowl-shaped records and his sensual wall curtains made of unreeled tapes create paths for the visitors of his shows.