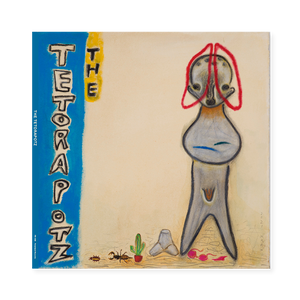 Produced by Potziland Records, 2022
12 in LP in translucent blue
Includes insert with text in Japanese and English 

Sound production by Atsuo (Boris)
Recording & Mix: Soichiro Nakamura & Atsuo

Recorded at Peace Music in December 2020
Mastered by Soichiro Nakamura at Peace Music, 2021
Artwork by Izumi Kato


Side A:
Vinegaroon - featuring Hideaki Kawashime, Yuko Nagase & Momiji
Stuffing Noodle-Making - featuring Tatzu Nishi
Scorpions and Cactus - featuring SNATCH
Kami-Katsuragawa - featuring Wata
Star in the Wilderness (live) - featuring Masato Kobayashi & MU-TA
Liar City - featuring Tomoki Kakitani & Zon Ito

Side B:

Go East - featuring SNATCH
I wanna be in the insect - featuring MU-TA
New Surf
Shimo-Katsuragawa - featuring suGar Yoshinaga
From the Youth Part 2 - featuring Azusa Hashimoto


About the band:
THE TETORAPOTZ is a five-man band that was born of an art exhibition. They are active primarily in the context of art museums, art projects, and art-related events. All aspects of musical, visual, stage, and record production are handled by the band members themselves, all of whom are also active independently in the visual arts.
Guitar & Vocals: Paramodel Yasuhiko Hayashi 
Bass & Vocals: Rintaro Hiramine (Mrs.Yuki)  
Guitar & Vocals: Tomomi Okubo (Mrs.Yuki)
Drums: Izumi Kato
Conch Shell Horn & Synthesizer: Takao Minami