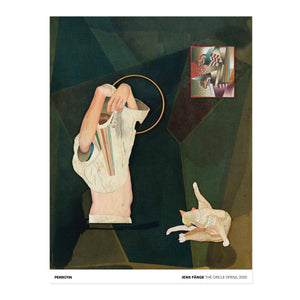 Produced by Perrotin, 2021
Offset print
53 x 40 cm | approx. 20.8 x 26 inches

Standard version: Open edition
Signed version: Limited edition of 100 with signature and numbering by the artist 

To order from Paris please visit here. 


More about the artist:

Working at the intersection of the early-twentieth-century practice of collage and the ancient art of shadow play, Jens Fänge has developed a surrealistic matryoshka-like aesthetics that consists of assembling paintings within paintings. A master of eclecticism, he incorporates—so it seems—an entire hierarchy of genres into his composite works, juxtaposing iconic portraits, still lifes, domestic interiors, cityscapes, and landscapes with geometric abstractions, all of which he renders using a variety of media and materials, including oil paint, pencil, vinyl, cardboard, and fabric on panel. The contoured, often cut-out protagonists of the artist's refined pictorial plays appear to be drifting into these overlapping stage-like layers of representations, giving rise to an intricate, seemingly endless maze of shifting perspectives, not only within each composition but also within each series as a whole.