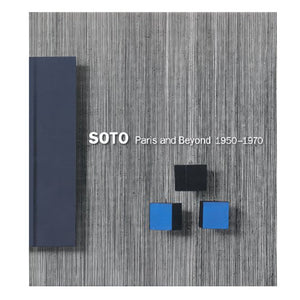 Published by Grey Art Gallery NYU, 2012
Hardcover, 144 pages
Text in English

ISBN: 9782844265944
This title is rare and out of print. Copies in stock remain in pristine condition. Limit of 2 per person / household, please. 

About the book:

Soto: Paris and Beyond, 1950–1970 accompanies the first large-scale exhibition dedicated to Jesús Soto to be held at a New York museum in more than 35 years. It highlights this major Venezuelan artist's early career, following his relocation from Caracas to Paris in 1950, and offers a rare opportunity to trace Soto's visionary trajectory and his influence upon, and exchanges with, other members of the avant-garde. Soto's achievements in the field of interactive art established his reputation as both an international exponent of kinetic art and one of the most influential Latin American artists of the twentieth century. This fully illustrated catalogue includes essays by curator Estrellita B. Brodsky and art historian Sarah K. Rich.