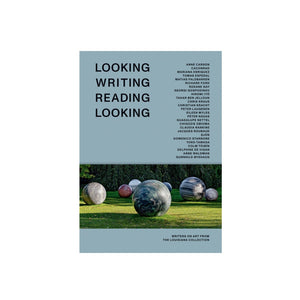 Published by the Louisiana Museum of Modern Art
Hardcover, 188 pages
6.75 x 9.75 in

ISBN 9788793659216

Text by Georgi Gospodinov, Colm Tóibín, Claudia Rankine, Richard Ford, Peter Laugesen, Chris Kraus, Sjón, Anne Carson, Roxane Gay, CAConrad, Mariana Enriquez, Hiromi Ito, Delphine de Vigan, Domenico Starnone, Yoko Tawada, Jacques Roubaud, Gunnhild Øyehaug, Eileen Myles, Tomas Espedal, Christian Kracht, Guadalupe Nettel, Anne Waldman, Matias Faldbakken, Chigozie Obioma, Péter Nádas, Tahar Ben Jelloun.

Today's leading poets and writers—from Anne Carson to Roxane Gay—respond to modern and contemporary masterpieces
In this book, 26 internationally renowned poets, writers and essayists such as Anne Carson, Richard Ford, Roxane Gay, Colm Toíbín, Eileen Myles, Sjón, Gunnhild Øyehaug, Anne Waldman and Claudia Rankine engage in dialogue with artworks from the collection of the Louisiana Museum of Modern Art by artists as different as Louise Bourgeois, Francis Bacon, Alberto Giacometti, Alicja Kwade, Andy Warhol, Julie Mehretu, Joseph Beuys, Tacita Dean, Yayoi Kusama and Francesca Woodman.

The writers deploy their poetic gaze in texts that open our eyes to the works. By way of a wide range of literary genres such as poems, essays, memoir and notes, the contributions to the book demonstrate how differently one can experience art.