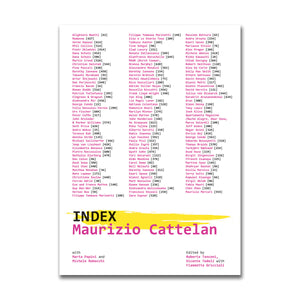 Published by Marsilio Editori, 2022
Paperback, 672 pages
20.9 x 29.2 cm | 8.25 x 11.5 in

From the publisher:
This massive volume, published in conjunction with the artist's exhibition at Pirelli HangarBicocca, collects for the first time all of the conversations that Maurizio Cattelan (born 1960) has been conducting for 20 years, as interviewer. The dialogues, of which there are more than 130, were published between 2001 and 2021 in numerous magazines, including Flash Art Italia, International, Purple Magazine, Vogue and Il Manifesto, as well as in monographs and exhibition catalogs.

Among the interviewees are luminaries such as Alighiero Boetti, Phil Collins, Ferran Adrià, Alex Da Corte, Seth Price, Urs Fischer, Dash Snow, Martine Syms, Paul Chan, Carol Rama, Takashi Murakami, Felix Gonzalez-Torres, George Condo, Jerry Saltz, Virgil Abloh, Chloë Sevigny, Dana Schutz and more.