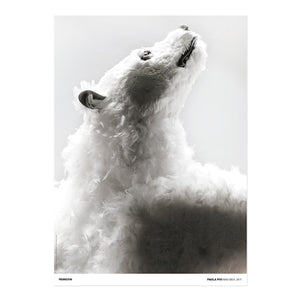 Produced by Perrotin, 2022
Offset print 240 gsm paper
70 x 50 cm | 27.5 x 19.6 in 
Limited edition of 100, Signed and numbered by the artist 
Standard version of this poster is available here. 

Produced on the occasion of the exhibition Free Land Scape. On view at Perrotin New York from June 23rd - July 29th, 2022. 
About the artist:

Born in Italy in 1971, Paola Pivi's artistic practice is diverse and enigmatic. Commingling the familiar with the alien, Pivi often works with commonly identifiable objects which are modified to introduce a new scale, material or color, challenging the audience to change their point of view. Animals are often cast as protagonists in Pivi's world. She draws upon their perceived characteristics and instills them with human mannerisms. In Pivi's art, Polar bears practice yoga, hang from trapezes, and engage with one another. Sprouting multicolored feathers, the artworks are both life-sized and miniaturized as baby bears. Spanning sculpture, video, photography, performance and installation, Pivi's practice trespasses perceived limits to make possible what before seemed impossible. Zebras frolic in the arctic, goldfish fly on airplanes, and in her 2012 Public Art Fund installation, a Piper Seneca airplane was lifted on its wingtips and installed to constantly rotate forward.