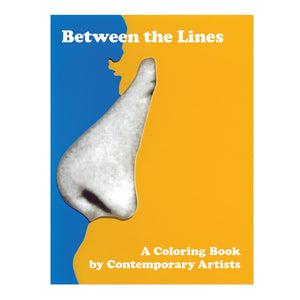 Published by RxArt Foundation
Softcover, 116 pages
10.75 x 8.5 in 
Features cover art and stickers by John Baldessari
ISBN: 9780978701314

RxART is a nonprofit organization with a mission to help children heal through the extraordinary power of visual art. They commission exceptional contemporary artists to transform children's hospitals and healthcare facilities into engaging and inspiring healing environments full of beauty, humor, and comfort.
RxART produces every project at no cost to the hospitals. Each commissioned artist is provided with an honorarium and the chance to transform the lives of children as they heal.

About this edition:

The fifth edition of RxArt's coloring book, Between the Lines: A Coloring Book by Contemporary Artists, Volume 5, features works by 52 contemporary artists and a cover and stickers by John Baldessari. Conceived for use by children of all ages, the RxArt coloring books are gifted to pediatric patients in hospitals nationwide. 

Featured artists:

RITA ACKERMANN, AFRUZ AMIGHI, ANDISHEH AVINI, JOHN BALDESSARI, BARRY X BALL, ALI BANISADR, PHYLLIDA BARLOW, SANFORD BIGGERS, OLAF BREUNING, REBECCA CHAMBERLAIN, JULIA CHIANG, WILL COTTON, ANN CRAVEN, AARON CURRY, N. DASH, WIM DELVOYE, CLAUDIA DEMONTE, KIM DINGLE, MARK DION, EVAN GRUZIS, SUBODH GUPTA, MARK HAGEN, PETER HALLEY, KEITH HARING, ALEX ISRAEL, RASHID JOHNSON, GLENN KAINO, WES LANG, GREG LINDQUIST, LIU YE, EMIL LUKAS, ED MCGOWIN, JULIE MEHRETU, MALCOLM MORLEY, KAMBUI OLUJIMI, ANGEL OTERO, TOM OTTERNESS, ERIK PARKER, MATTHEW RITCHIE, ALEXIS ROCKMAN, UGO RONDINONE, KENNY SCHARF, ANDREW SENDOR, ALYSON SHOTZ, TOM SLAUGHTER, JOSH SMITH, SHINIQUE SMITH, JENNIFER STEINKAMP, WILLIAM WEGMAN, MARTIN WILNER, JONAS WOOD, SAYA WOOLFALK.