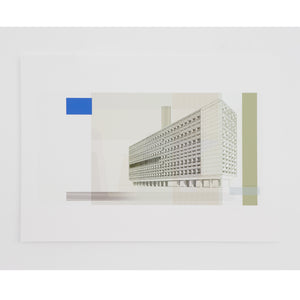 Produced by Perrotin, 2013
Digital print on Fine art 100% cotton paper
50 x 70 cm | 19.6 x 27.5 inches
Edition of 300, signed and numbered by the artist in graphite pencil
Xavier Veilhan, born in 1963 and currently living and working in Paris, studied successively at the École Nationale Supérieure des Art Décoratifs in Paris (1982-1983), the Hochschule der Künste (Art University) in Berlin (under Georg Baselitz) and the Centre Pompidou's Institut des Hautes Etudes en Arts Plastiques (1989-1990), run by Pontus Hultén. Since the mid-1980s he has created an acclaimed body of works (sculpture, painting, installation, performance, video and photography) defined by his interest in both the vocabulary of modernity and classical statuary. His work pays tribute to the inventions and inventors of modernity, through a formal artistic language that mixes the codes of both industry and art. He has a long-standing interest in the often-evolving exhibition space in which the visitor becomes an actor. He nourishes his material research with regular musical collaborations with artists like the band Air, musician Sébastien Tellier or pioneer composer Eliane Radigue. A regular when it comes to projects in the public space, Xavier Veilhan has installed sculptures in various cities in France.